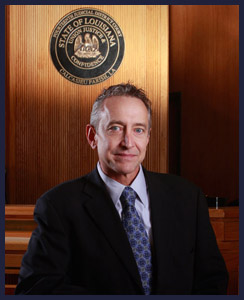 Born in New Orleans, Edward K. Bauman attended college at the University of South Western, Louisiana. He then moved to Baton Rouge and received his Juris Doctorate from Louisiana State University Law School. Mr. Bauman then moved to Lake Charles, Louisiana, to act as clerk for the Third Circuit Court of Appeals.
After four-year clerkship at the Third Circuit, Mr. Bauman decided that Lake Charles, Louisiana, would be a great place to raise a family. He hung out his shingle and began his practice, working out of his home and first. As he saw Lake Charles grow, so did his practice, solely by word of mouth. He
married a Cajun girl and now has one son. After living in New Orleans, Lafayette, and Baton Rouge, he could not think of a better place to live.
Now a resident of Lake Charles, Louisiana, for over twenty years, Mr. Bauman takes pride in his community. He is a former VISTA (Volunteers in Service to America) volunteer and counselor with Big Brothers/Big Sisters of Acadiana and Southwest Louisiana, and a former Big Brother here in Lake Charles. He is a Master Mason, a member of Masonic Lodge 165, and a Shriner with the Habibi Temple in Lake Charles. He is a member of the SWLA Bar Association and Louisiana State Bar Association. Results: Edward K. Bauman has fought for the rights of individuals in Calcasieu Parish and the surrounding parishes who have been injured through the negligence of others for over 20 years. Let him put that experience to work for you. Some of the cases he has settled are listed below. Of course, all cases have different facts and results.
– $412,362.12 : For the intentional infliction of emotional stress
– $100,000.00 : Motorcycle/Automobile accident
– $320,000.00 : Eighteen-Wheeler/Automobile accident
– $100,000.00 : Slip and Fall
– $ 82,754.00 : Automobile accident
– $175,000.00 : Eighteen-Wheeler/Automobile accident